I've been working on this for a few weeks :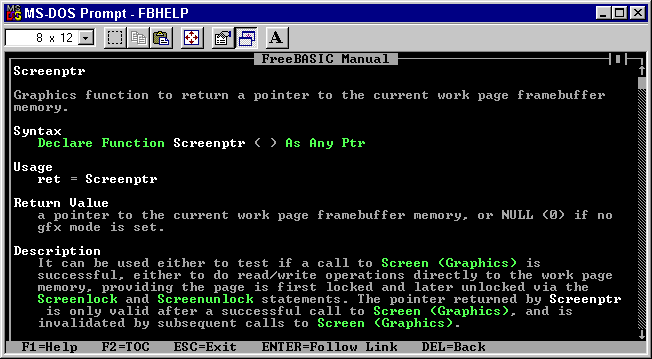 ... something for the hardcore dos freaks. :P
fbhelp.exe (dos) and fbhelpw.exe (windows) console help viewer for FreeBASIC manual.
Still lots to do, but I would like to get feedback on how it runs under dos/windows and any feature requests.
Source under a GNU compatible license will eventually be available. Binaries only for this testing release.
Download available from my (Unoffiicial) FreeBASIC Manual page:
http://frontpage.execulink.com/coder/freebasic/docs.asp
Important keys: F1=DocToc, F2=readme, CTRL+X = Exit.
Thanks!
EDIT: Oops. I first built the download with an older snapshot of the wiki. For more recent wiki. Please DL again, sorry.