EDIT: All of the source mentioned in this post is available for download here:
http://frontpage.execulink.com/coder/fr ... /atoms.asp
I was looking around for a module in my old qb code and I found this instead: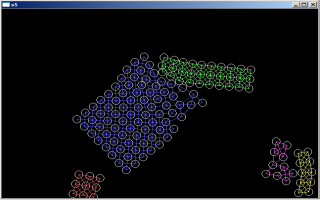 Blocks (made of simulated bonded atoms) are dropped from some height and smash against the ground and each other.
I made it about 6 years ago in QB. It's one of several that I did trying to simulate things like jello and dominos. Anyway, I only had to change a few lines to get it to compile and run in freebasic. (it could not have been easier).
There are some constants at the top of the program that can be tweaked to give different effects. Since the simulation is not based on any real physics, numbers don't have any real world meaning: so you will just have to play with the values. And I'm sorry if it's too fast for newer computers, there's no timing code. Maybe you can add a sleep or something in the main loop.
Download Source :
atom_smash.bas
10k
I now go back to my search for what I was really looking for.