I'm not dead and I'm releasing a new game. Some of you might have been expecting FB port of Evil Baron Lachie but I gave up on finishing that game. Simply, I got sick of it and it's poor gameplay. Yes, it had a funny story and the cinematics I've planned to add were even more funny(really) but working on a game you hate is very unrewarding and unproductive. Trust me, once you try out Poxie you won't miss EBL one bit. I'm not saying Poxie is great but, by my humble opinion, it's much better than EBL could have ever been.
I'll copy and paste some of the stuff from the game readme file. Hope you won't mind.
Poxie is a 2D action game combining pacman and platform game concept, featuring vertical scrolling, 256 colors graphic and Sound Blaster sound effects and music.
The game concept is based on(borrowed from) a relatively unknown QBasic game called Panic Vicious made by HUR. I don't know if he borrowed the idea for his game from somewhere too.
Poxie was completed a whole month ago but I was unable to release it before today which was good. I was able to test the game properly, add more polish and remove some of the bugs. Also, some totaly new things were done that were not planned like a better ending.
Download the game here:
http://kentauri.digitalblackie.com/Poxie.zip
(2.2 MB)
http://kentauri.digitalblackie.com/PoxieLite.zip
(0.23 MB) - No sound and music
Screenshots: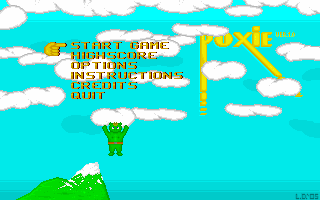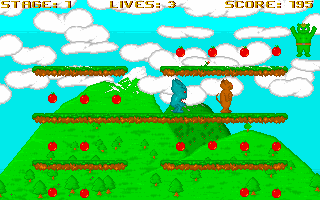 Visit my site for Panic Vicious and stage 3 screenshot:
www.kentauri.cjb.net
Poxie is definitely something new for me. Not much because of the fact it's a FreeBASIC game since I've already released R.E.Lope's pixel scrolling engine in FB but more because I've boldly(uh) experimented with new things in the graphic department. When I started working on Poxie I had no idea how much I will be able to satisfy the demands of the imagined game design but all in all it worked out very well. The backgrounds are not something much better than, for example, Ball Blazing Fantasy main menu but the characters are another story. The very movement of the game characters was inspired by Turrican II and without much trouble I was able to easily create a neat illusion of entire body movement. I know, I know, it's far from perfect but it's an improvement for me. Due the limited time this had to be a mini-game but I think it's a valuable contribution to the FreeBASIC game design scene, unless something fantastic happened here while I was offline.
Poxie features 6 stages each with different background graphic and every second with different NPC and foreground graphic. Poxie features many layers of graphic and all kind of more or less interesting graphic effects, depending on the stage. There is also the game ending.
This is my first game where I've used sound effects and I kinda wish I had a bigger choice of them. Guess the sound effects archive I've started creating is not that great.
Music....well, probably the weakest part of Poxie. I just can't help it there. Currently, I suck in composing tracks. When I just think of the music in The Quest For Opa Opa. Uh. Hope I'll somehow(still don't know how) get better in this.
Any kind of feedback on the game is welcomed.
If any of you is interested to review Poxie please reach at least stage 4 and check out the readme.txt file. Especially "How To Play" and "Questions And Answers" sections. And if you are going to take screenshots of the game don't show screenshots of stages 5 and 6 to public please.
I've thanked a lot of people so check the credits section too. No development log this time. Like anyone reads that. Still, there are things to say. Poxie almost never happened because I thought I wouldn't be able to pull it off in such short time if at all. I've even started another project and worked on it one day. Some crap idea about helicopter contraption carrying stone blocks which are used to build a castle. Very doubtful idea as the very possibility to execute it. I almost gave up on working on a game during the summer before returning to Poxie. Very shy for the first two days until I realized it could be done.
BTW, I'm looking for someone to compile Poxie for Linux. I think there shouldn't be any problems since I only used GFXLib 2 routines and FMOD. If someone is interested please post it in here or email me so I can send you the source code. And no, the source code is not available for public. Check the readme file for more info about that(Q&A section). Also, can in distribute LINUX and Windows executable files in the same archive? Is that advisable? I mean, if someone runs a LINUX file in Windows the computer won't blow up or something like that? :P