I happy to put online my first Linux executable (even in beta state)! :)
Link:
BitmapRip
BitmapRip is a simple tool able to extract bitmaps (JPG, PNG, GIF and TIFF, currently) from just about any file, searching for their signatures. It could be a game data file, an EXE with embedded graphics resource, etc. It can be used also to undelete images / photos from flash cards, simply pointing it to a disk image file.
The initial Win32 version was coded in PowerBASIC. Yesterday, I played a bit to see if it can easyly ported in FreeBASIC. It was about a 20 minutes jobs, and at the first "no errors compile", it worked. Then, I installed Ubuntu Linux on my iMac, trought Parallels VM, installed FreeBASIC, APT-GETed a couple of libraries, and got FreeBASIC compile the exact same source for Linux without any problems. Nice!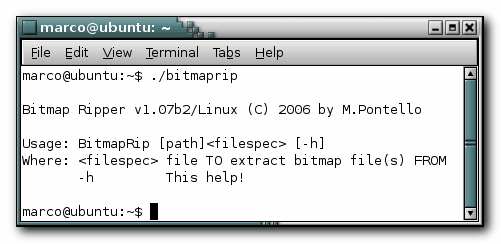 Feedback about the tool on Linux is very appreciated: in witch distro it works / don't works, problems, and so on. I tested it on Ubuntu and seems to works right (altough some displayed numers (like MB/s) are ugly formatted - my fault, will be fixed soon).
Hope the tool can be useful to someone!
Bye!