Posts: 4216
Joined: Jan 02, 2017 0:34
Location: UK
Contact:
Every time you post the view count in this thread, you prolong the life of a thread that no one is interacting with because people, myself included, want to see if there is any new real content being posted.

At this point, each time you post about view counts it is effectively the same as replying to your own post with "Bump!" to push it back to the top of the page, even though you have already reached the natural conclusion of the thread. If this continues, I will consider locking the thread.
Posts: 4216
Joined: Jan 02, 2017 0:34
Location: UK
Contact:
@imortis

I am aware of that and was going to follow '350' with a statement saying I would not be posting again with a view count.

I have proved an issue with this forum that I have held for some time. Furthermore, I should add that I am not the only one. Earlier today I had a private conversation with a member who has a high contribution record who wrote he is at a loss to why we have "poor or no participation" which "discourages" contributors.

It is a sad day when the eighth-highest contributor, joining in 2017, and second-highest posts per day, second only to fxm, 'throws the towel in'.

The waving smilie is not 'Hello' but 'Goodbye'.

I will now have more time for coding. FreeBASIC is an excellent member of the BASIC family, and I will continue to enjoy coding with it. The forum, on the other hand, for the most part, now sucks, and I am well out of it.

Please lock this thread as I have no intention of holding a conversation regarding my departure.

David Roberts
You need to go to the digitalspy forums. Those are proper British forums full of lovely interaction - hundreds of idiots posting tens of thousands of pointless posts but my god is it active. I'm so proud I'm making a Nicholas Witchell bot to narrate it.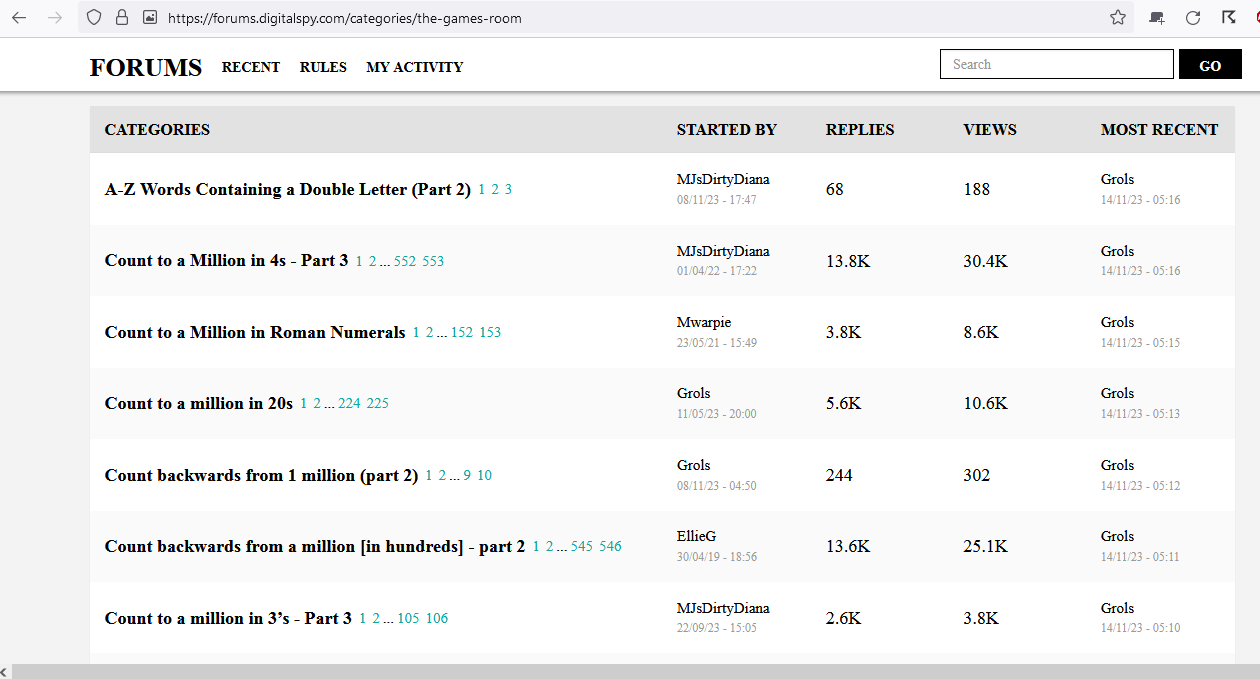 deltarho[1859]

wrote:

↑

Nov 13, 2023 21:17

I have no intention of holding a conversation regarding my departure.
Which one? This is number three by my count.
Posts: 4216
Joined: Jan 02, 2017 0:34
Location: UK
Contact:
adeyblue wrote:Which one? This is number three by my count.
I have disabled notifications and blocked private messages. I am just about to remove FreeBASIC from my browser's bookmarks.
Thereafter, people can queue up to have a go at me, but I will unaware.
There are some who I will miss communicating with but for the forum in general - nope.
@Imortis 494
First off, thank you all for your messages in missing in action thread.
And to D.J. Peters and TJF I send my condolences.
Deltarho, I don't think I'll ever get hot and bothered by fb forum chit chat again.
Certainly not to the point throwing towels in.
The forum certainly had more buzz a while back, and I complained bitterly about having 4 moderators operating at the same time, independently, and so many members getting the boot all of a sudden.
We
had
silly threads for silly code -- circles and squares, (an fb
www.digitalspy.com/categories/the-games-room
equivalent), but when Albert was kicked out (compression without decompression), we also lost Richard (his mentor), and the natural successor to squares (pentacles) fizzled out, when it should be alive and kicking today, and getting close to being locked (like it's two predecessors), circles and squares.
Then Richard would have started yet another, maybe stars, to keep the ball rolling.
But alas it is very easy to loose interest and move on to other things, and the old fb forum can easily move onto another tack by loosing valuable members.
Posts: 408
Joined: Sep 28, 2013 15:08
Location: Germany
dodicat, I am happy to see that you are back to the forum! And thank you for this clear post. Though I am surely not one of the most active members in this forum, I like it and look often what is going on. I agree that the quality has decreased, but I think that should not prevent interested members to contribute further in a friendly and constructive way.

deltarhof, please do not be frustrated that some posts seem not to be of interest for other members. Please think about your decision to leave, the forum needs creative members!