To day I got an vintage
Tektronix 2211 50 MHz Digital Analog Oscilloscope
from eBay (~20$).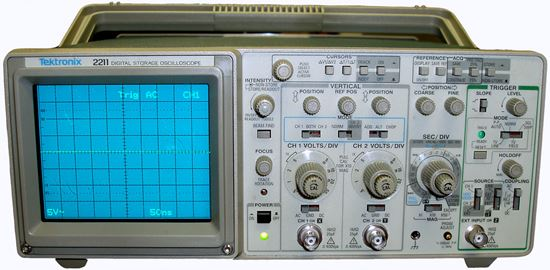 Of course all this old
(~1989)
Tektronix and other Oscilloscopes does not have a USB interface
but many of them have a RS232C or centronics interface to plot the channels on pen plotters or printers.
I recorded with FreeBASIC the serial interface (9600 baud) from the device and the result are a HP-GL plotter file.
With a tiny HP-GL decoder in FreeBASIC you can plot this kind of data easly.
If you like to test it be sure the 4 channel demo file "PLOT.hpgl" are in the same folder.
Joshy
right click and save as:
PLOT.hpgl
file: hpglplot.bas
Code: Select all
'#define DEBUG

#ifdef DEBUG
#define DPRINT(msg) open err for output as #99:print #99,msg:close #99
#else
#define DPRINT(msg) :
#endif

const HPGL_FILE = "PLOT.hpgl"

function getText(aLine as string,byref iPos as integer) as string
var txt = ""
while aLine[iPos]<>asc(";") andalso aLine[iPos]<>asc(",")
txt &= chr(aLine[iPos])
iPos+=1
wend
iPos+=1
'DPRINT("txt: " & txt)
return txt
end function

function getNumber(aLine as string,byref iPos as integer) as single
var number = getText(aLine,iPos)
return val(number)
end function

'
' main
'

ChDir EXEPath()
var FileName = HPGL_FILE

var hFile = FreeFile()
if Open(FileName,for binary,access read,as #hFile) then
print "error: can't read " & FileName & "!"
beep : sleep : end 1
end if

var nBytes = LOF(hFile)
DPRINT("file size: " & nBytes)
var buffer = new ubyte[nBytes]
get #hFile,,*Buffer,nBytes
close #hFile


dim as single ratio,xSize,ySize
dim as integer iRead,iPen,scrW,scrH,xMin,xMax,yMin,yMax,xPos,yPos,xOld,yOld
dim as boolean scrActive,penActive,labActive

screeninfo scrW,scrH
scrW*=0.75 : scrH*=0.75

while iRead<nBytes
dim as string aLine '= ""
while right(aLine,1)<>chr(asc(";"))
if buffer[iRead]<>3 then
aLine &= chr(buffer[iRead])
end if
iRead+=1
wend
var aCmd = left(aLine,2)
var iPos=2
select case aCmd
case "DF" ' set default
penActive=false ' no active pen
labActive=false ' no active label
iPen = 1
xMin=0:xMax=scrW
yMin=0:yMax=scrH
xOld=0:yOld=0
xPos=0:yPos=0
DPRINT("reset to default")
case "SP" ' set pen #
iPen = getNumber(aLine,iPos)
DPRINT("set pen color " & iPen)
case "SC" ' scale
xMin = getNumber(aLine,iPos)
xMax = getNumber(aLine,iPos)
yMin = getNumber(aLine,iPos)
yMax = getNumber(aLine,iPos)
DPRINT("scale " & xMin & "," & xMax & "," & yMin & "," & yMax)
if scrActive=false then
screenres scrW,scrH
scrActive=true
end if
if scrActive then window (xMin,yMin)-(xMax,yMax)
case "PU" ' pen up
penActive=false
if aLine[iPos]=asc(";") then
DPRINT("pen up")
else
xOld=getNumber(aLine,iPos)
yOld=getNumber(aLine,iPos)
DPRINT("pen up at " & xPos & "," & yPos)
end if
case "PD" ' pen down
penActive=true
if aLine[iPos]=asc(";") then
DPRINT("pen down")
else
xPos=getNumber(aLine,iPos)
yPos=getNumber(aLine,iPos)
xOld=xPos:yOld=yPos
DPRINT("pen down at " & xPos & "," & yPos)
'pset (xPos,yPos),iPen
end if
case "PA" ' plot absolute
xOld=xPos:yOld=yPos
xPos=getNumber(aLine,iPos)
yPos=getNumber(aLine,iPos)
if penActive then
DPRINT("plot to " & xPos & "," & yPos)
if labActive then
line (xOld,yOld)-(xPos,yPos),iPen
else
line (xOld,yOld)-(xPos,yPos),7
end if
else
DPRINT("move to " & xPos & "," & yPos)
end if
case "SR" ' set relative character size
xSize=getNumber(aLine,iPos)
ySize=getNumber(aLine,iPos)
'DPRINT("char size " & xSize & "," & ySize)
case "LB" ' label
labActive=true
var sLabel = getText(aLine,iPos)
draw string (xOld,yOld),sLabel,15
DPRINT("label: " & sLabel)
case else
DPRINT("unsupported HP-GL command " & aCmd)
beep:sleep
end select
wend

windowtitle "done ..."
deallocate buffer
sleep
click to enlarge: