Often you need some values from user you can learn big libs like wx, Gtk+, IUP or use a tiny solution.
For many tasks TinyDialog can be a very handy tool for you.
(you can use 50 controls per dialog)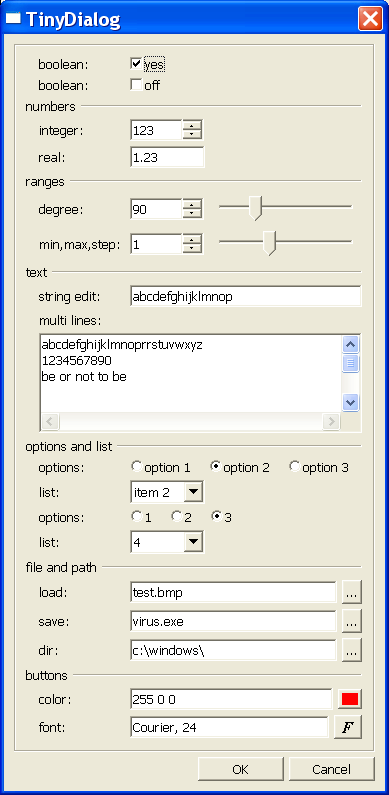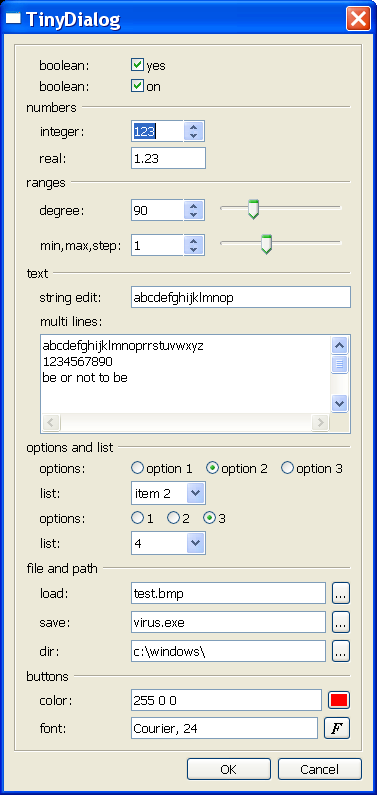 Downloads:
Windows and Linux:
TinyDialog.zip
If you use a fbgfx screen you can show any dialog via the right mouse button.
(i can post examples if something are unclear)
Joshy
list of all commands: (note: all params are optional and you can resize the dialog via mouse)
Code: Select all
#include once "TinyDialog.bi"
dim as TinyDialog dlg

dlg.addSeperator ["label text"]

id = dlg.addBoolean(["label text"],[0/1],["true text","false text"],["tooltip text"])

id = dlg.addInteger(["label text"],[iValue],["tooltip text"])
id = dlg.addIntegerMin(["label text"],[iValue],iMin,["tooltip text"])
id = dlg.addIntegerMinMax(["label text"],[iValue],iMin,iMax,["tooltip text"])
id = dlg.addIntegerMinMaxStep(["label text"],[iValue],iMin,iMax,iStep,["tooltip text"])

id = dlg.addReal(["label text"],[rValue],["tooltip text"])
id = dlg.addRealMin(["label text"],[rValue],rMin,["tooltip text"])
id = dlg.addRealMinMax(["label text"],[rValue],rMin,rMax,["tooltip text"])
id = dlg.addRealMinMaxStep(["label text"],[rValue],rMin,rMax,rStep,["tooltip text"])

id = dlg.addAngle(["label text"],[rValue],["tooltip text"])
id = dlg.addAngleMin(["label text"],[rValue],rMin,["tooltip text"])
id = dlg.addAngleMinMax(["label text"],[rValue],rMin,rMax,["tooltip text"])
id = dlg.addAngleMinMaxStep(["label text"],[rValue],rMin,rMax,rStep,["tooltip text"])

id = dlg.addString(["label text"],["text"],["tooltip text"])
id = dlg.addMultiLine(["label text"],["text"],["tooltip text"])

id = dlg.addOptions(["label text"],["item1|item2|..."],[selected],["tooltip text"])
id = dlg.addList(["label text"],["item1|item2|..."],[selected],["tooltip text"])

id = dlg.addLoadButton(["label text"],["filename"],["filter"],["start folder"],[iChangedir],[iOverwrite],["tooltip text"])
id = dlg.addSaveButton(["label text"],["filename"],["filter"],["start folder"],[iChangedir],[iOverwrite],["tooltip text"])
id = dlg.addDirButton(["label text"],["pathname"],["start folder"],[iChangedir],[iOverwrite],["tooltip text"])

id = dlg.addColorButton(["label text"],[uiColor],["tooltip text"])
id = dlg.addFontButton(["label text"],[FontName],["tooltip text"])

dlg.Title = "don't look at the bi file ;-)"

dlg.SetOKButtonText("txt")
dlg.SetCancelButtonText("txt")

var result = dlg.Show()
var iValue = dlg.GetInteger(id)
var rValue = dlg.GetReal(id)
var sValue = dlg.GetString(id)
var uiValue = dlg.GetColor(id)