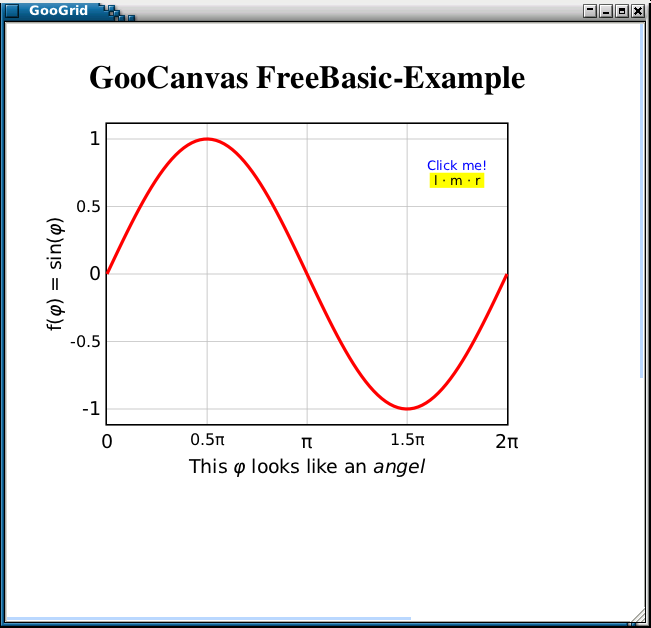 This little examples draws a graph in a window at the screen. The drawing area is scrollable. When you click at the graph ... compile and see yourself.
This example can be compiled and executed under windows and LINUX. The window and the scroll-area is created by GTK. Rendering is done by GooCanvas (GTK extension) using Cairo. You'll need the
goocanvas2.0.0.bi
header file. And you'll need an updated GTK header, ie from the package
GladeToBac3.0.2.zip
(oder newer).
All this installation efforts will be recompensed by powerful grafic features with high quality rendering and high speed output - at the screen and also in vector grafic formated files (ie *.ps for printer output).
Here's the code
Code: Select all
#INCLUDE ONCE "gtk/GTK-2.22.0_TJF.bi"
#INCLUDE ONCE "TJF/goocanvas-2.0.0.bi"

' Some variables and types
CONST Xmax = 1000, Ymax = 1000, Smin = 0.1
CONST GridX = 100.0, GridY = GridX, GridW = 400.0, GridH = 300.0


' Initialize GTK+.
gtk_init (@__FB_ARGC__, @__FB_ARGV__)

' Create the window and widgets.
VAR win = gtk_window_new (GTK_WINDOW_TOPLEVEL)
gtk_window_set_default_size (GTK_WINDOW (win), 640, 600)
gtk_widget_show (win)
g_signal_connect (win, "delete_event", G_CALLBACK(@gtk_main_quit), NULL)

VAR scrolled_win = gtk_scrolled_window_new (NULL, NULL)
gtk_scrolled_window_set_shadow_type (GTK_SCROLLED_WINDOW (scrolled_win), _
GTK_SHADOW_IN)
gtk_widget_show (scrolled_win)
gtk_container_add (GTK_CONTAINER (win), scrolled_win)

VAR canvas = goo_canvas_new ()
gtk_widget_set_size_request (canvas, 600, 450)
goo_canvas_set_bounds (GOO_CANVAS (canvas), 0, 0, Xmax, ymax)
gtk_widget_show (canvas)
gtk_container_add (GTK_CONTAINER (scrolled_win), canvas)


VAR root = goo_canvas_get_root_item (GOO_CANVAS (canvas))

VAR title = goo_canvas_text_new(root, _
"<span size=""xx-large"">GooCanvas FreeBasic-Example</span>", _
GridX + 0.5 * GridW, GridY - 25, -1, _
GTK_ANCHOR_S, _
"use-markup", 1, _
"font", "Times bold 14", _
NULL)

VAR group = goo_canvas_group_new(root, _
"font", "Sans 14", _
NULL)

' calculate some values
VAR line_group = 0.8 ' basic line width
VAR az = 100, pi = 4.0 * ATN(1), n = 2 * az - 1
VAR fx = GridW / (n - 1), sx = (az - 1) / pi, dx = 0.25 * GridW
VAR fy = GridH * 0.45, oy = GridY + 0.5 * GridH

VAR grid = goo_canvas_grid_new(group, _
GridX, GridY, GridW, GridH, _
dx, fy * 0.5, dx * 1.001, 0.05 * GridH, _
"border-width", line_group * 2, _
"horz-grid-line-width", line_group, _
"vert-grid-line-width", line_group, _
"horz-grid-line-color", "gray", _
"vert-grid-line-color", "gray", _
NULL)

VAR CanPoi = goo_canvas_points_new(az), copo = CanPoi->coords
FOR i AS INTEGER = 0 TO n STEP 2
copo[i] = GridX + i * fx
copo[i + 1] = oy - SIN(i/sx) * fy
NEXT
VAR poly = goo_canvas_polyline_new(group, 0, 0, _
"stroke-color", "red",_
"line-width", line_group * 4,_
"tooltip", "Test Polyline", _
"points", CanPoi,_
NULL)
goo_canvas_points_unref(CanPoi)

' and now some text, text, text, ...
VAR ox = GridX - 8 * line_group
VAR text = goo_canvas_text_new(group, "1", _
ox, oy - fy, -1, _
GTK_ANCHOR_E, _
NULL)
text = goo_canvas_text_new(group, "-1", _
ox, oy + fy, -1, _
GTK_ANCHOR_E, _
NULL)
fy /= 2
text = goo_canvas_text_new(group, "<small>0.5</small>", _
ox, oy - fy, -1, _
GTK_ANCHOR_E, _
"use-markup", 1, _
NULL)
text = goo_canvas_text_new(group, "<small>-0.5</small>", _
ox, oy + fy, -1, _
GTK_ANCHOR_E, _
"use-markup", 1, _
NULL)
text = goo_canvas_text_new(group, "0", _
ox, oy, -1, _
GTK_ANCHOR_E, _
NULL)
ox -= 35
text = goo_canvas_text_new(group, "f(<i>φ</i>) = sin(<i>φ</i>)", _
ox, oy, -1, _
GTK_ANCHOR_S, _
"use-markup", 1, _
NULL)
goo_canvas_item_rotate(text, -90.0, ox, oy)

ox = GridX
oy = GridY + GridH + 8 * line_group
text = goo_canvas_text_new(group, "0", _
ox, oy, -1, _
GTK_ANCHOR_N, _
NULL)
ox += dx
text = goo_canvas_text_new(group, "<small>0.5π</small>", _
ox, oy, -1, _
GTK_ANCHOR_N, _
"use-markup", 1, _
NULL)
ox += dx
text = goo_canvas_text_new(group, "π", _
ox, oy, -1, _
GTK_ANCHOR_N, _
NULL)
text = goo_canvas_text_new(group, "This <i>φ</i> looks like an <i>angel</i>", _
ox, oy + 25, -1, _
GTK_ANCHOR_N, _
"use-markup", 1, _
NULL)
ox += dx
text = goo_canvas_text_new(group, "<small>1.5π</small>", _
ox, oy, -1, _
GTK_ANCHOR_N, _
"use-markup", 1, _
NULL)
ox += dx
text = goo_canvas_text_new(group, "2π", _
ox, oy, -1, _
GTK_ANCHOR_N, _
NULL)
text = goo_canvas_text_new(group, "<span size=""x-small""><span foreground=""blue"">" _
!"Click me!</span>\n<span background=""yellow"">" _
" l · m · r </span></span>", _
ox - 0.5 * dx, GridY + .05 * GridH + 0.5 * fy, -1, _
GTK_ANCHOR_CENTER, _
"use-markup", 1, _
"alignment", PANGO_ALIGN_CENTER, _
NULL)

' unvisible rect to make the grid clickable (not only lines)
VAR rect = goo_canvas_rect_new(group, _
GridX, GridY, GridW, GridH, _
"fill-color-rgba", &hFF000000, _
"stroke-pattern", NULL, _
NULL)

TYPE CbPointer
AS GooCanvasItem PTR Title, Group
END TYPE

' signal handler (callback)
FUNCTION on_button_press CDECL(BYVAL item AS GooCanvasItem PTR, _
BYVAL target AS GooCanvasItem PTR, _
BYVAL event AS GdkEventButton PTR, _
BYVAL dat AS CbPointer PTR) AS gboolean
STATIC AS INTEGER mo = 0
IF event->button = 2 THEN
goo_canvas_item_stop_animation(dat->Title) : mo = 0
goo_canvas_item_set_simple_transform (dat->Title, 0.0, 0.0, 1.0, 0.0)
goo_canvas_item_stop_animation(dat->Group) : mo = 0
goo_canvas_item_set_simple_transform (dat->Group, 0.0, 0.0, 1.0, 0.0)
RETURN TRUE
ELSEIF mo = 0 THEN
goo_canvas_item_animate (dat->Title, _
GridX + 0.5 * GridW, GridY - 25, _
Smin, -7.0, _
FALSE, 8 * 40, 40, _
GOO_CANVAS_ANIMATE_BOUNCE)
goo_canvas_item_animate (dat->Group, _
Xmax, Ymax, _
Smin, 90, _
FALSE, event->button * 50 * 40, 40, _
GOO_CANVAS_ANIMATE_BOUNCE)
mo = 1
ELSE
goo_canvas_item_stop_animation(dat->Title)
goo_canvas_item_set_simple_transform (dat->Title, 0.0, 0.0, 1.0, 0.0)
goo_canvas_item_stop_animation(dat->Group) : mo = 0
END IF

RETURN TRUE
END FUNCTION
g_signal_connect (group, "button_press_event", _
G_CALLBACK (@on_button_press), @TYPE<CbPointer>(title, group))

' Pass control to the GTK+ main event loop.
gtk_main ()

END 0
Hint for windows users:
Don't forget to downlowd and install the GooCanvas binaries -- you'll need
Runtime
and
Dev
. If you don't have an updated GTK installation (GTK 2.22 is recomended):
http://ftp.gnome.org/pub/GNOME/binaries/win32/gtk+/2.22/gtk+-bundle_2.22.1-20101227_win32.zip
For updates watch
Zeichnen mit GooCanvas (ein Graph)