I have tested FreeBasic 0.24 in DosBox and I wrote following program:
Code: Select all
SCREEN 1
CLS
COLOR 1, 3
PRINT "Hello World!"
DIM I AS INTEGER
FOR I = 0 TO 3
LINE (I * 80, 20)-(I * 80 + 79, 199), I, BF
NEXT
SLEEP
COLOR 0, 2
PRINT "Palette changed"
SLEEP
SCREEN 2
CLS
LINE (0, 0)-(639, 199)
LINE (0, 199)-(639, 0)
LINE (0, 0)-(639, 199), , B
LOCATE 1, 1
PRINT "AA"
LOCATE 1, 79
PRINT "BB"
SLEEP
This program displays tree pictures, two in Screen 1 mode and one in Screen 2 mode.
I found problems with CGA graphics in current version of FreeBasic.
This program compiled with Microsoft QuickBasic displays following pictures: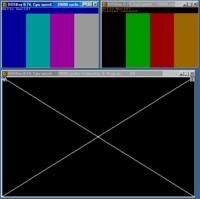 The pictures are the same in all machine types in DosBox configuration, only in "hercules" machinetype this program does not work.
But with the same program compiled with FreeBasic (also with "-lang qb") there are some problems with display and mouse.
In machine type "pcjr" this program does not work.
Machine type one of following: cga,tandy,ega,vgaonly,svga_et3000,svga_et4000,svga_paradise
In Screen 1, COLOR statement does not work, and in Screen 2, picture is moved by 8 pixels right.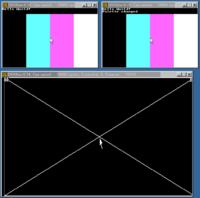 In machine type "svga_s3" or "vesa_oldvbe" picture in both screen modes is displayed correctly.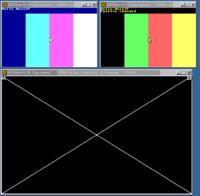 In these machine type in Screen 2 mode there is a problem with mouse. The starting point is not screen center, there is at bottom edge. When I move mouse "below" bottom edge, DosBox exits with following error: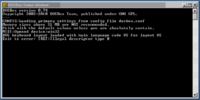 In machine type "vesa_nolfb" screen are as following and there is the same problem with mouse.