srvaldez wrote:above 5.2 does accept the -fPIE switch
Using -Wc or -Wl?
If I use -Wl I am told that -f cannot be used without -shared, but when I use -shared I'm in trouble.
I tried this:
-gen gcc -Wc -O2 -Wc -pie -Wl -dynamicbase -Wl -highentropyva
No errors, no warnings but I could not see any mention of -pie in the compiler output.
Looking at the Properties sheet in Process Explorer I get this: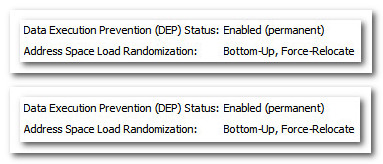 The top one is Encrypternet and the bottom one is 'MailWasher Pro'. Process Explorer still reckons Encrypternet has not got ASLR but 'MailWasher Pro' has.
Not seeing -pie in the compiler output is still telling me that we are not getting PIE/PIC.
I will now have a look at the link in your last post.
Added: I like his attitude.

is there an expert on PE headers on this forum that may be able to help?
Well, I am not for one.