Dear all, at rev.387 I added plugin support, if anyone are interest in it, there is a example code in
http://www.mediafire.com/file/mqkjz2l7ddyeraa/testPlugin.7z
After downloading the source, use freeBASIC to build it with -dll option( need link with IUP library ), we will get *.dll or *.so dynamic library.
For using the new stuff, using poseidonFB rev.387, "Options" -> "Tools" -> "Set Custom Tools...", set the plugin name and path, then click "OK",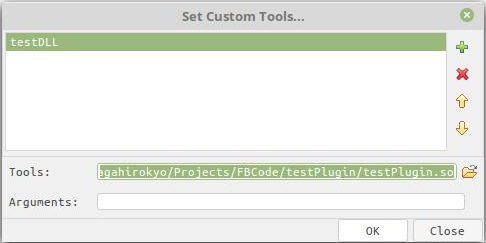 select "Options" -> "Tools" -> "Set Custom Tools..." again, click the "plugin name" menuitem to run.
Every plugin need include a "poseidonFB_Dll_Go()" function as entry point( poseidonFB will can this function everytime execute the plugin ), using IUP we can use IupGetHandle / IupGetDialogChild function to get it's IUP Ihandle, and use them in our plugin code.
The *.dll / *.so can place at anywhere, poseidonFB will load it by it's steeing path, the older use *.exe custom tools are also supported.
For IupGetHandle:
IupGetHandle( "POSEIDONFB_MAIN_DIALOG" ), to get poseidonFB main dialog Ihandle
For IupGetDialogChild:
NAME = POSEIDONFB_MAIN_TABS, to get poseidonFB's main document IupFlatTabs Ihandle
NAME = POSEIDONFB_SUB_TABS, to get poseidonFB's sub(split) document IupFlatTabs Ihandle
NAME = POSEIDONFB_LEFT_TABS, to get poseidonFB's left( Project, Outline ) IupTabs Ihandle
NAME = POSEIDONFB_BOTTOM_TABS, , to get poseidonFB's bottom( Message, Search ) IupFlatTabs(Win) / IupTabs(Lin) Ihandle